Season 5 is the fifth season of The Sims 3 Hunger Games. This season takes place in the beautiful islands of Isla Paradiso, which was the town received from the The Sims 3: Island Paradise expansion pack. The season premiered on April 27, 2014 and ended on August 30, 2014. This season is the longest-running season of the series to date.
Contestants
Edit
NOTE: Dan Kaplan from KPopp's playthrough of The Novelist was one of the original characters to be in the household, however KPopp removed him in order to add Matilda.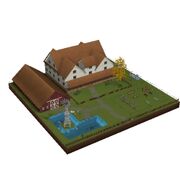 The house for the fifth season of 
The Sims 3 Hunger Games
 was created by PaulaDeenSimmer, who is a fellow Simmer and is the parody account for the
Season 2
contestant 
Paula Deen
. The Arena is designed to look like the St Johns Dairy Farm from the popular game series The Walking Dead, in which Kpopp is currently doing a playthrough on. 
Challenges
Edit
Mechanical Bull Riding
Jelly Bean Challenge (Death)
Bowling Challenge
Hunger Challenge (Death)
Treadmill Challenge
Fire Challenge (Fail)
Jet Pack Challenge (Death)
Rant about Death Challenge (Death)
Door of Life and Death (Death)
Score Table
Edit
| Contestants | 1 | 2 | 3 | 4 | 5 | 6 | 7 | 8 | 9 |
| --- | --- | --- | --- | --- | --- | --- | --- | --- | --- |
| Matilda | Lost | | Won | | | | | | |
| Whiteboy7thst | Lost | | Lost | | | | | | |
| Ivana Bangkok | Won | | Finalist | | | | | | |
| Paris Hilton | Lost | | Lost | | | | | | |
| Jodie Holmes | Lost | | Lost | | | | | | |
| Brenda St. John | Lost | | Lost | | | | | | |
| Severus Snape | Finalist | | Lost | | | | | | |
| Gale Hawthorne | Lost | | | | | | | | |