Season 2 of the Sims 3 Hunger Games, which features all-new contestants and an all-new arena. It started on July 26, 2013 and ended on September 28, 2013.  It took place in the town of Moonlight Falls.
Contestants
Edit
Taylor Swift, based on the country-pop singer, Taylor Swift. She was the victor.
Harry Potter, the title character from the Harry Potter series. He was the runner-up.
Harry Styles, based on the member of the boy band, One Direction. He placed third.
June Honey Boo Boo, based on the mother of Honey Boo Boo. She placed fourth.
Kanye West, based on the singer-rapper, Kanye West. He placed fifth.
Draco Malfoy, a fictional character from Harry Potter. He placed sixth.
Paula Deen, based on the current Paula Deen. She placed seventh.
Kim Kardashian, based on the celebrity, Kim Kardashian. She placed eighth.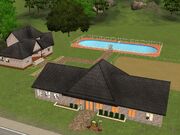 The new arena for season 2 is very similar to season 1 in layout and style. The Season 2 arena is available for download at The Sims 3 Exchange.
Challenges
Edit
Main article: Types of challenges
Pie eating
Jelly bean (death challenge)
Vending machine (death challenge)
Aptitude test and domino
Freezing (death challenge)
Apple bobbing
Drowning (death challenge)
Maze, exercise, and painting
Score table
Edit