Orange Spears is one of the slaves of Season 4, along with his mother, Britney. He is hardly ever used, as there is no real need for him, but he is still technically considered a slave.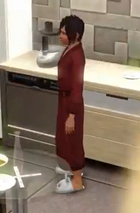 In one of the previous episodes, Lee Everett had a baby with a woman who resembled Britney Spears so much, that she was renamed after her (albeit KPopp used the wrong spelling). Orange first appeared in Episode 6.
Virtuoso
Genius
Can't stand art
Games. Honey Boo Boo, Hannah Montana and The Neighbor were all added to their respective households using testingcheatsenabled true, and The slave was adopted into his season.
Orange would have been called Clementine II, had he been born female. Because Clementine isn't really appropriate for a boy he was named Orange instead.
He doesn't resemble either of his parents.