Animals were introduced to the Sims 3 Hunger Games in Season 2, when the June Honey Boo Boo went out on the town to claim her reward.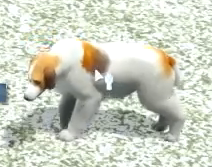 While June was in the park, KPopp saw Poppo Dog. KPopp was amused by the relative similarity between the dog's name and Poppy Cat's (from the Pregnant Challenge), so she added Poppo to the household. When June went home, two additional dogs (and later, two cats) appeared on the the home lot. They were added to the household soon after appearing. KPopp did not initially name these four animals.
Several episodes later, she gave the dogs the names "Friendzone" and "Butterbutt," and the cats the names "Catnip" and "Catniss." It is presumed that every season after the Season 2 will include pets. KPopp has jokingly mentioned holding a Hunger Games for the pets.
In Episode 9,  It seemed the pets didn't want the contestants to die and were trying to help them.
In Episode 12 (also known as the Season 2 Finale), Poppo dog ate the final meal that was supposed to be for either Harry or Taylor, because Harry had it, but dropped it on the floor. But Poppo eating the food didn't really matter because KPopp just raised their hunger meters for the challenges anyways.
In Episode 10, In memorial for Miley Cyrus Twerkin, a squirrel was chosen and was named "Twerkin' Chippy". Since Kelly had mercy on Miley, she let Miley play with Twerking Chippy before she dies. However, Twerkin' Chippy would always bite Miley Cyrus, even though she is her temporary owner.
Butterbutt
Friendzone
Poppo Dog
Squirrels
Edit